Our Redesigned App Has Arrived!
Welcome to the new mobile banking experience!  Our redesigned app has all new features that we know you are going to love!
Support for the redesigned app
For help and support, including How To's and FAQ's, click here to access our Mobile App page.
Our eServices team is available to help you with any questions regarding the mobile app and can be reached at 1-877-226-7957, or click here to contact us. 
eServices hours for the week of October 25th to October 29th are as follows:
Tuesday, October 25th to Friday, October 28th - 8:00 am to 8:00 pm
Saturday, October 29th - 9:30 am to 3:00 pm
How to Find Your Username and Password 
Your current username and password will be required to log into the updated app.  If you do not know your current username, please choose one of the following options:
1. Enter your debit/membercard number in place of your username, or
2. Click the Forgot Username or Password? link located on the online banking or mobile banking app sign in page and follow the instructions. You must have a valid email address or mobile phone number on file to complete this action, or
3. Contact us at 1-877-226-7957.
First Time Login Information
The release is considered an "update" to the app. When opening the mobile app, you will be prompted to visit the mobile app store and complete the upgrade to the current version (2022.2.0).

The 2.0 update is required for all users to continue using the mobile banking app.

Deleting and re-installing a new app is not required – if you delete the previous app and re-install the newest version, you will be required to start over and update all features and settings.

When logging in for the first time after the app upgrade, you will be directed to enter your current username and password. If biometric credentials (faceID or fingerprint) are established after initial sign in, you will no longer be directed to enter your username and password for future logins.

Biometrics will need to be re-activated after updating the app.

Profile pictures, backgrounds and all other features, including favorites, bill payees, and etransfer contacts will remain with the updated app.

The minimum supported OS version required for the updated app is as follows.

IOS – Version 12 or newer

Android – Version 6 or newer

The app will be available for use on iOS ipads, but not android tablets
Digital banking is getting a new look! 
We've listened to your feedback regarding the functionality and navigation of our mobile banking app and we are happy to announce that our redesigned mobile app will arrive on October 25th!  Bank on the go using your mobile device with enhanced features you'll love!
Our redesigned mobile banking experience will be easier than ever to use, with a simpler navigation that lets you see all your accounts and balances right when you sign in. You can pay bills, move money and make deposits in an instant - perfect for busy members on the go. We've also added new features for both mobile and online banking, like downloadable void cheques, so you can set up pre-authorized debit transactions and direct deposits in a snap. There's never been a better time to explore digital banking!
View your primary chequing account balance upon first sign in and easily swipe to see additional accounts and balances.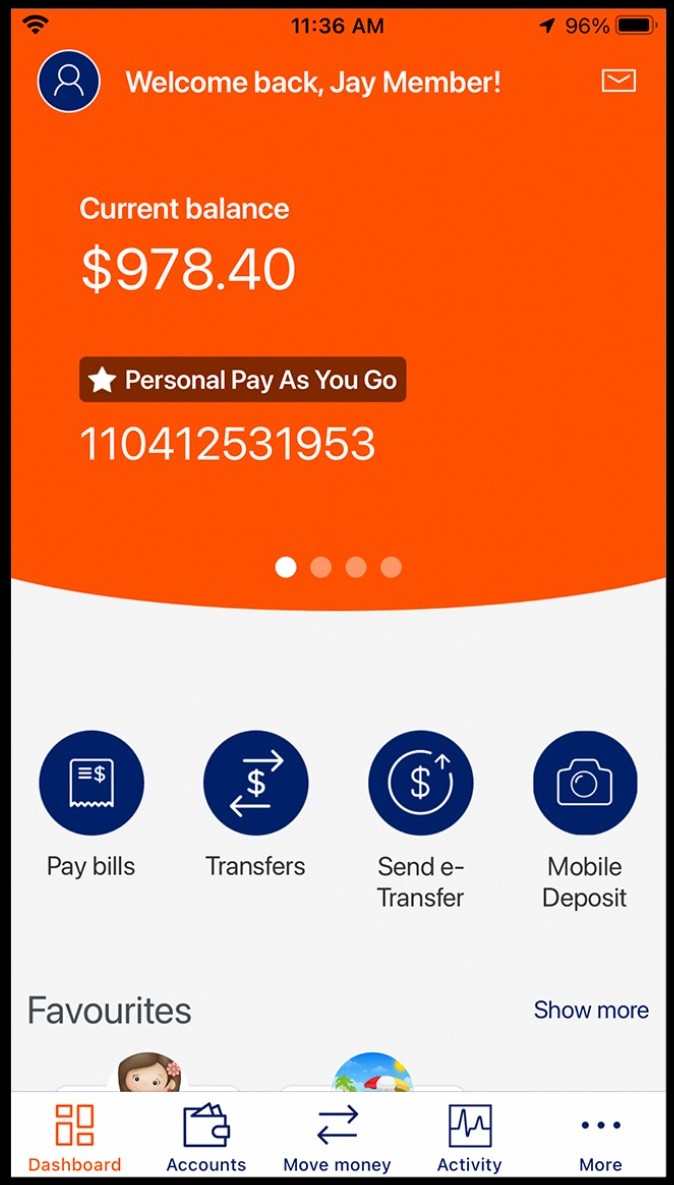 Navigation now appears across the bottom of the app, allowing members to more quickly access their dashboard, view accounts, move money, see all their account activity and make changes to their personal information and profile (including biometrics) under "more".
Download a pdf of a void cheque. Easily set up of direct deposits and pre-authorized debit transactions, eliminating the need to provide a physical cheque.
Take a Tour of the new navigation and features…
Take a tour of the new app design!  When you open the upgraded app for the first time, you will be taken through a quick tour before logging in.  The tour will highlight the new navigation and features within the app before logging in.