Former CEO of Fusion Credit Union Receives Order of Merit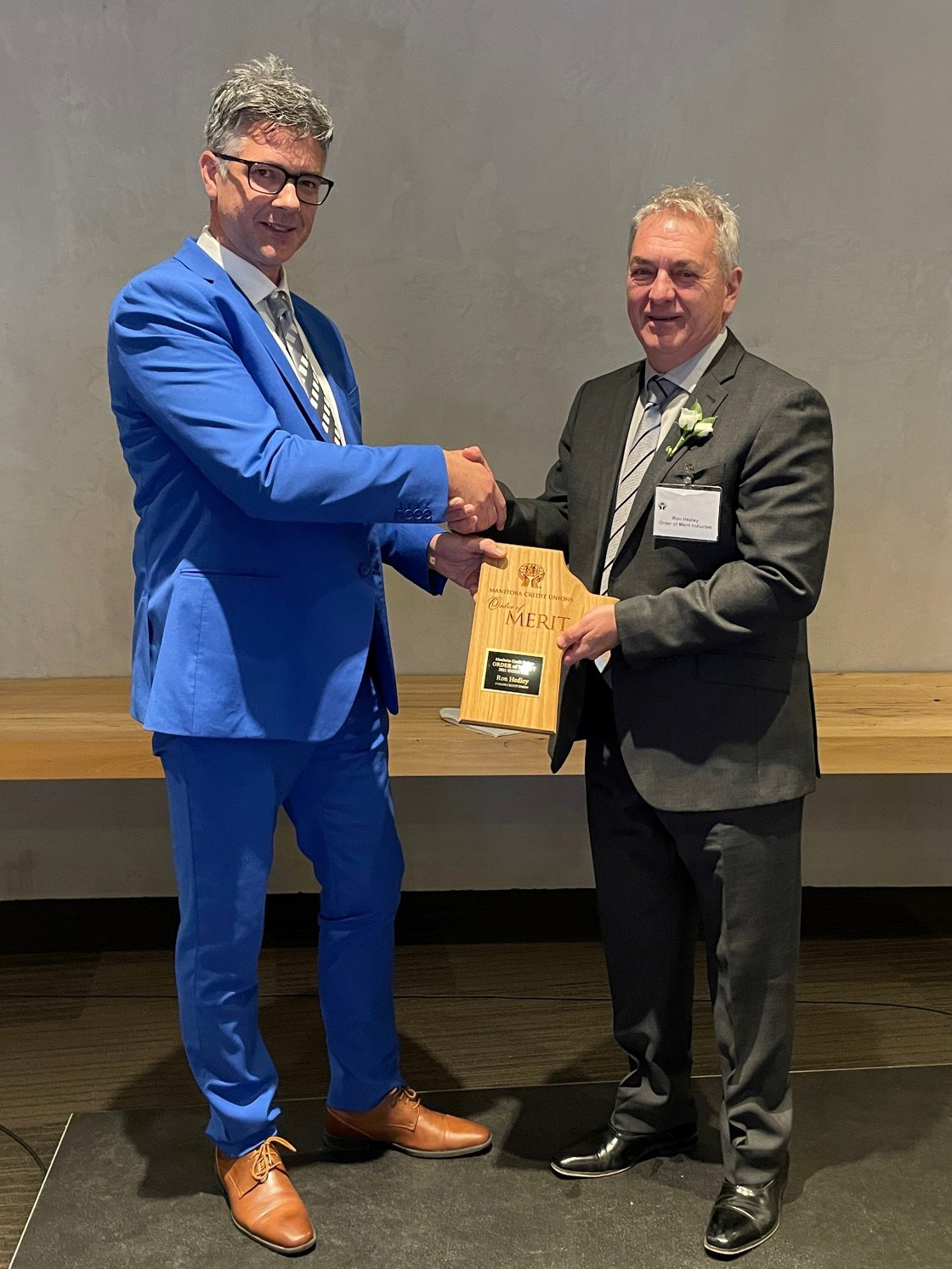 Mike Csversko, Business Development Manager at Fusion, presents Ron with the Order of Merit.
---
HAMIOTA, MB – Congratulations to Ron Hedley, former CEO of Fusion Credit Union, on receiving the order of Merit from Manitoba Credit Unions.  The Manitoba Credit Union Order of Merit recognizes individuals who demonstrate a significant commitment to the credit union system at the local, provincial, national and international levels. 
"I've had the privilege of working with Ron for eight years at the board level, and I couldn't think of anyone more deserving to receive the Order of Merit," says Richard Dereniwski, Board Chair of Fusion Credit Union.  "Ron's energy and innovative ideas were a catalyst for so many initiatives within Fusion and our communities.  He truly embodies the spirit of this award." 
Those selected to the Order of Merit have made tangible contributions to the development and operations of credit unions and have demonstrated leadership in the philosophy of people helping people.  During Ron's tenure at Fusion, he was instrumental in promoting environmental sustainability initiatives including loans for solar panel projects and promoting Dauphin's first 'net zero' home.  He carried the same philosophy to the wider credit union system by volunteering on several boards and committees at the provincial level. 
"It was such an honour to receive this award," says Hedley.  I accepted it on behalf of all the terrific people I had the good fortune to work with.  All of the staff, management teams, and Boards were such a large part of the successes and the happiness of my career.  It was because of all of them that I enjoyed the first day and the last day of my 40 years." 
After a memorable 40-year career, Fusion Credit Union said good-bye to Ron when he retired on June 1, 2020.  "Ron's tenure at Fusion resulted in impressive accolades for the credit union, including being recognized as one of Manitoba's Top Employers and introducing the Full Circle Fund to support community groups and projects," comments Dereniwski.  "Ron leaves behind a legacy of innovation, creativity and collaboration.  He lived by the philosophy of "people helping people" and our communities have thrived under his leadership." 
Darwin Johns, CEO of Fusion Credit Union, explains how Ron's leadership and vision paved the way for Fusion to successfully move into the future.  "Fusion has a strong history of engaging in public service and contributing to the credit union system, a foundation built by Ron," comments Johns.  "He demonstrated the benefits of working together to make a difference, not only in our local communities, but also at a provincial level.  At Fusion we are building on this foundation and continuing to embed the philosophy into our culture.  As a result, our employees see considerable opportunities and benefits to supporting important projects in our communities." 
-30-
WE ARE FUSION CREDIT UNION. Fusion is a full-service financial institution serving over 32,000 members across 18 branches in the Parkland and southwestern Manitoba. Collectively, we believe the future of our communities lies in our shared ability to be creative, to aspire to new things, to create and embrace new economic opportunities, while remaining grounded in our values. Individually, people who are financially confident have more freedom to live their lives on their own terms.  We actively support our members to achieve and increase their financial confidence through financial literacy programs in schools, in branches, and on-line. At Fusion, we keep the success and wellness of our members and our communities in the forefront of all our decisions, at all levels. We see this as the basis of our success. 
Monday | January 16, 08:24 AM