Fusion Credit Union Gifts EnergyPod® to Brandon University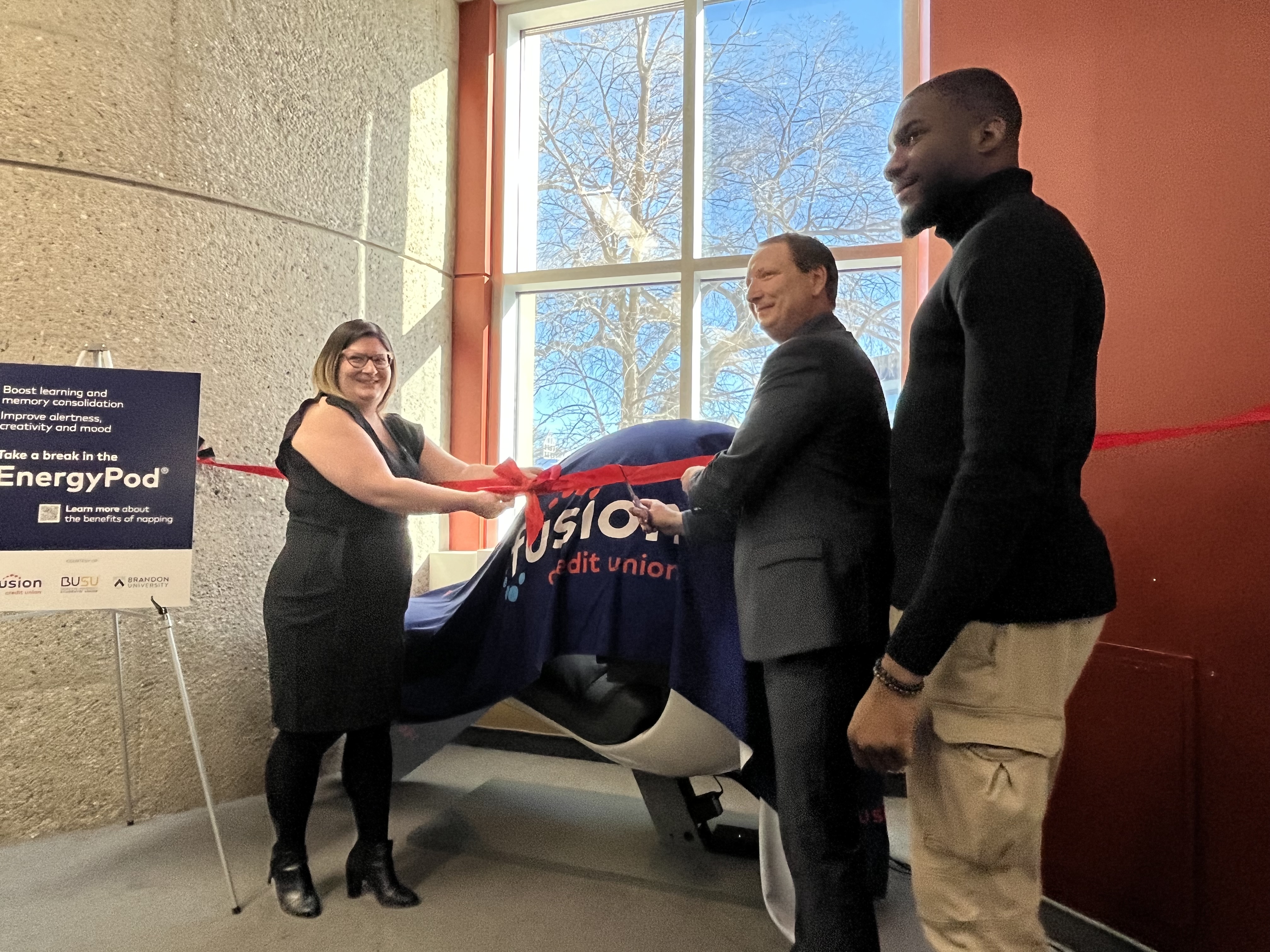 Ashley Taron, BUSU Executive Director,
Darwin Johns, CEO, Fusion Credit Union
and Anugo Okudo, BUSU Vice President Engagement,
cut the ribbon at the EnergyWorks® unveiling at the John E. Robbins Library.
---
BRANDON, MB – Two years in the making, Fusion Credit Union unveils Restworks EnergyPod® at the John E. Robbins Library at Brandon University.
John E. Robbins Library at Brandon University was the site for the unveiling on Thursday, with Fusion CEO Darwin Johns, as well as BUSU Vice President Ashley Taron on hand to speak to the partnership. "Brandon University's prominence in the City of Brandon, as well as their expansive and diverse student body, made them a perfect community partner for the EneryPod®" says Fusion CEO Darwin Johns. "We hope the gift of rest and rejuvenation will support the success of students and employees, and enhance the campus experience," continues Johns. The proven benefits of the EnergyPod® are endless, including enhanced memory processing, and improved alertness and reduced stress.
At Fusion Credit Union, our mission is to help our members live their best lives, and to support members through financial guidance, community investment and member-focused innovation. The idea of the EnergyPod® was first implemented at Fusion as a result of an internal Innovation Den program, whereby employees were invited to pitch their innovative ideas. The winning idea was Wellness Spaces at all 18 branches, as well as the four subsidiary NorthStar Insurance & Real Estate agencies. "In the two years since implementation at our branches and agencies, these Wellness Spaces have brought our employees benefits such as increased productivity, stress reduction and an overall increase in workplace satisfaction," notes Johns.
What is an EnergyPod®? The EnergyPod® is a zero-gravity positioned chair with a programmed sleep timer. It also features specially composed sleep music to eliminate distractions and a gentle wake sequence to minimize grogginess.
"We had a great turnout of Fusion representatives, and BU students and staff at the unveiling," says Leanne DeVliegere, Chief Operations Officer at Fusion Credit Union. "We are excited with the enthusiastic response from the Brandon University community, and we know the pod has been well received! We are pleased to provide the benefits of the EnergyPod® to the team at Brandon University in the same way that we have for our employees," says DeVliegere.
Read more about the EnergyPod® and what Fusion Credit Union is doing to help their members live their best lives at www.fusioncu.com/en/energypod 
-30-
Fusion Credit Union is a full-service financial institution serving almost 30,000 members across 18 branches in the Parkland and South Western Manitoba. Collectively, we believe the future of our communities lies in our shared ability to be creative, to aspire to new things, to create and embrace new economic opportunities, while remaining grounded in our values. Individually, people who are financially confident have more freedom to live their lives on their own terms. We actively support our members to achieve and increase their financial confidence through financial literacy programs in schools, in branches, and on-line. At Fusion, we keep the success and wellness of our members and our communities in the forefront of all our decisions, at all levels. We see this as the basis of our success.
Monday | February 6, 08:24 AM