Our Mobile App makes checking your balance, transferring funds and paying a bill as easy as reaching for your Smartphone! You get secure, convenient access to your accounts on the go. The App is free and available on Android and Apple devices. You can download the app at any App Store or Google Play at no charge.
HIGHLIGHTS
Check your account balances
View your transaction history
Pay bills — manage your own bill payees by adding and deleting in 2 simple steps
Transfer funds
Send an Interac e-Transfer® — add contacts from your Android or iPhone's contact address book
Schedule your own fund transfers and bill payments
Deposit Anywhere
Quickview feature allows you to view the balance of selected accounts without the hassle of logging in
Quick navigation menu bar allows accessibility to all pages without returning to the home screen

Login using biometric authentication (Face ID or fingerprint)
HOW TO DOWNLOAD THE APP
Visit the Apple or Google Play store to download Fusion's Mobile App. The app is free of charge and is shown as Fusion Credit Union. Note: Fusion's Mobile App is free however since the Mobile App uses data, your carrier may charge data rates for using mobile banking. Dependent on the action being performed, service charges may apply to transactions you complete on the App.
Jump to a topic:
How to Find your Username and Password for Current Users
If you are a current user of the mobile app and have recently installed the updated version but do not know your username, please take one of the following steps:
1. Enter your debit/membercard number in place of your username, or
2. Click the Forgot Username or Password? link located on the online banking or mobile banking app sign in page and follow the instructions. You must have a valid email address or mobile phone number on file to complete this action, or
3. Contact us at 1-877-226-7957.
Mobile App First-Time Login – How to:
If your contact information is not up to date, please contact us at 1-877-226-7957 in order to verify your information. Your current email or mobile phone number is required to log in. 
Mobile Banking App
Install the app which looks like this:

*iOS users - version 17.0.0
*Android - version 17.0.0
  1. Go to the login screen
  2. Sign in by entering your current member/debit card 
  3. Enter your date of birth
  4. Select either the email or mobile phone radio button – this determines how one-time passwords are received
  5. Enter the applicable information (email or mobile phone number)
  6. Confirm
  7. DNA validates that YES, the information entered (DOB and email or mobile) is what is stored in DNA
  8. You will receive a one-time password
  9. Enter the one-time password
  10. Create a user profile
  11. Enter a new username
Alphanumeric characters with a minimum of 5 to a maximum of 34
    - Cannot use your member/ debit card numbers
    - Unique same username cannot be used by different people
  12. Enter a password
Alphanumeric characters –minimum 10 and maximum 35
     -Alphanumeric characters
     - 1 uppercase letter – mandatory
     - 1 lowercase letter –mandatory
     - 1 number –mandatory
     - 1 symbol – optional (not listed on the password strength monitor but can be used)Re-enter password for verification
  13. Re-enter password for verification  
  14. Acknowledge the Direct Services Agreement
  15. Confirmation screen is displayed
  16. Login with new username and password
---
Business Mobile App First-time Login – How to
If your contact information is not up to date, please contact us at 1-877-226-7957 in order to verify your information. Your current email or mobile phone number is required to log into the new platform.
If your business has more than one signer, each signer will need to log in and create their own username and password. 
Mobile Banking App
Install the app which looks like this:

*iOS users - version 17.0.0
*Android - version 17.0.0
Sign in using your current member/debit card and Personal Access Code (PAC)

Choose a unique username. Please note that once you've selected a username, it cannot be changed.

Choose a unique password using the following criteria:

Alphanumeric

Minimum 10 characters

Maximum 35 characters

1 uppercase letter

1 lowercase letter

1 number

1 symbol (this is not displayed on the password indicator but is allowed)

Enter your PERSONAL mobile phone number and/or email address when prompted.

You may be asked to verify your date of birth. To complete the field, please enter your contact information in this format: mm-dd-yyyy.

You will receive a verification code on your mobile phone or email. Please be aware that it may take a few minutes for the code to show up in your email. 

If you don't receive your verification code, please check your junk mail folder. If still not received within 10 minutes, please resend the code. If a second verification code is requested, enter the second code you receive - if you have 2 verification codes the latest one you received is the one that must be entered. If the code is still not received, please contact us at 1-877-226-7957.

Enter that code on the pop-up screen when prompted.

If the contact information you enter does not match what we have on file, you will not be able to receive your verification code. Please contact us at 1-877-226-7957 to verify your contact info.

If everything is correct, click "Create user profile" to finish up.
Please use your new username and password to now enter the online banking and mobile app.

---
Navigating through the new Personal Digital Banking Experience
With our easy to navigate menus, you can customize your digital banking experience. Let's start exploring!
Log into your Fusion account using your phone.

Mobile App
Once you have logged into your mobile app, you can:
select your own profile picture

send a secure message to our eServices by clicking on the envelope

view your account balances, favourite transactions, messages and most recent actitivty in one place

Navigation appears across the bottom of the app allowing quick access to dashboard, view accounts, move money, account activity, and more
Dashboard 
Financial Overview and Messages
Obtain a Financial Overview of your accounts and view sent and received messages.
Alerts
Account Alerts - Be notified of withdrawals, balance alerts, insufficient funds or failed transactions on your account(s).




Security Alerts - Get alerts for password changes, attempt locks, successful logins and biometric access completions.



Settings
Password – allows you to change your password frequently for your own security

Contact Details – Update your address, phone and email




Profile details – Personalize your experience by uploading your own profile and background picture




Statement Preferences – choose paper or electronic statement

Widget – Create shortcuts to favorite transactions

Biometric Authentication – Use facial recognition and/or fingerprint technology to login into your mobile app.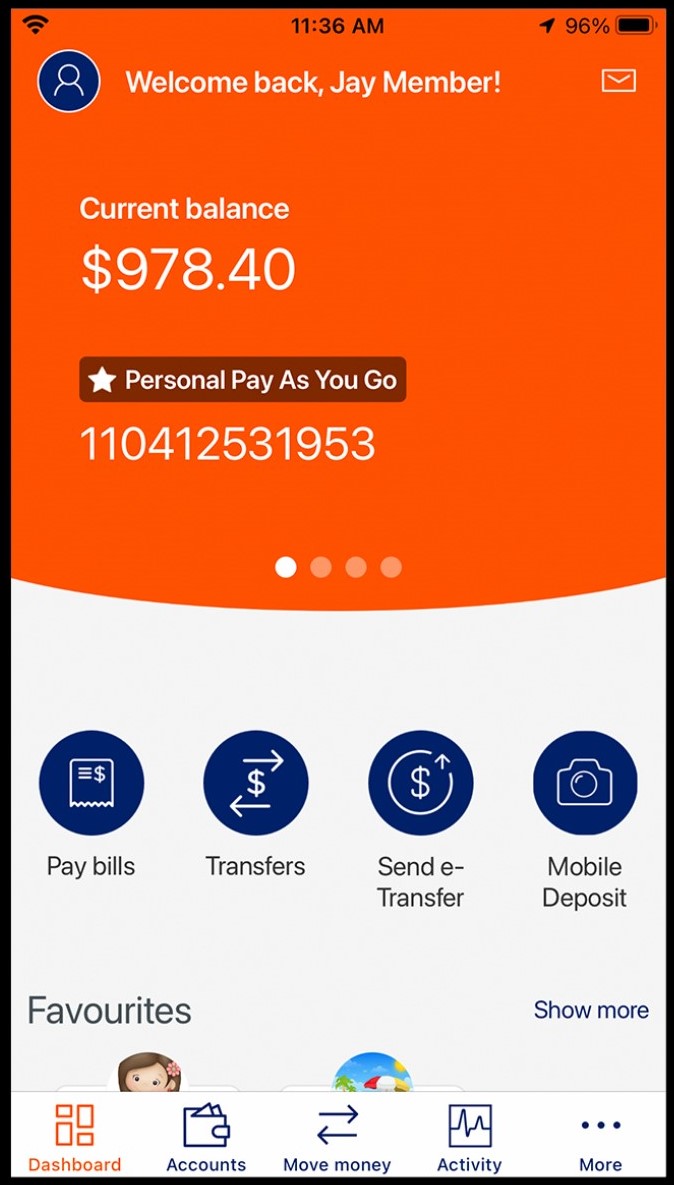 Accounts Menu
View accounts, transactions  – view all account details and transactions

Favorite transactions – create shortcuts for favorite transactions, name accounts and change the order of lists

Open A New Account – open an individual new chequing, savings and/or investment accounts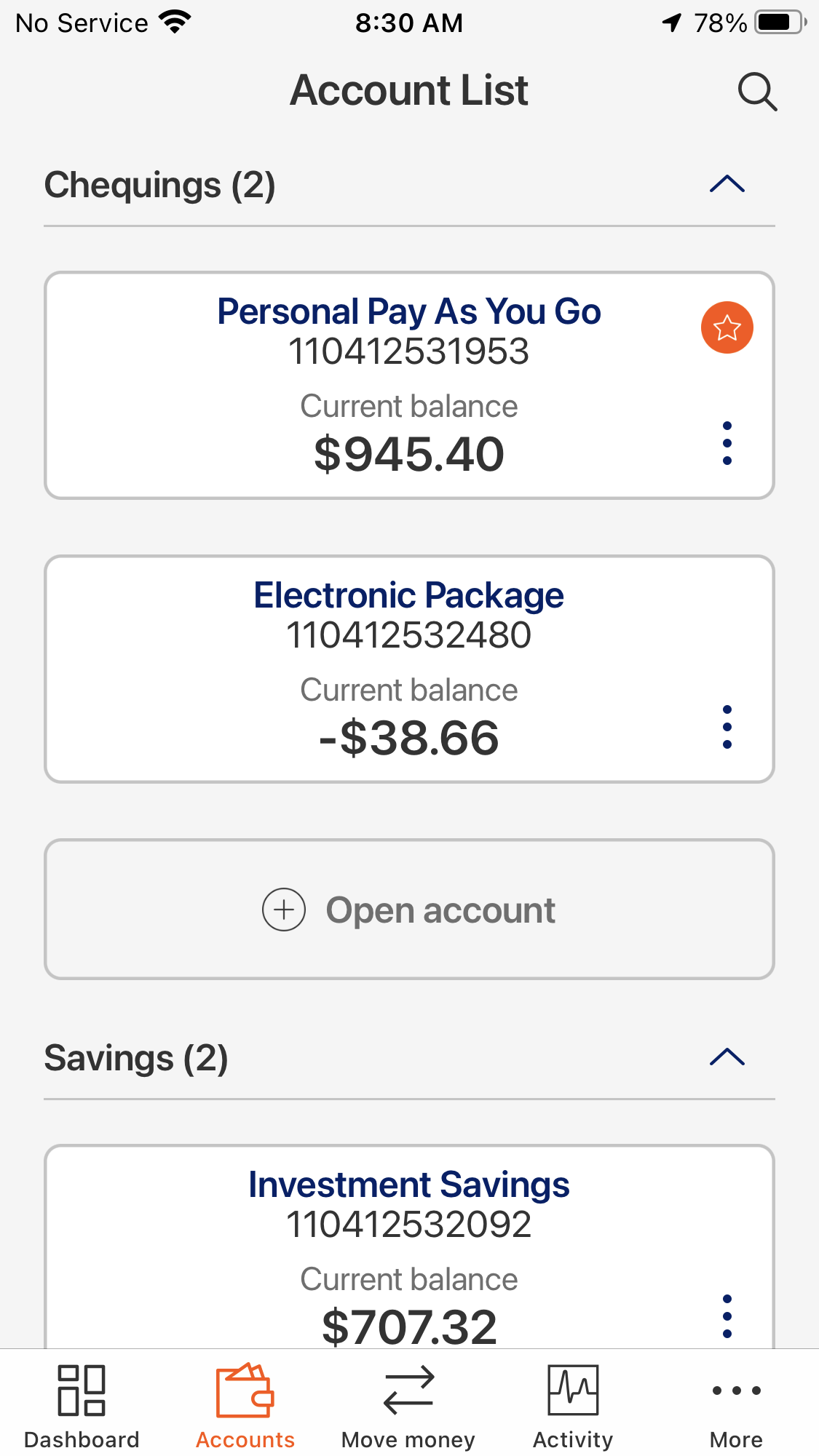 Move Money 
Transfers 
Transfers- transfer funds between your own accounts 

View scheduled transfers- view all transfers that you have scheduled 

Mobile deposit- deposit cheques to your account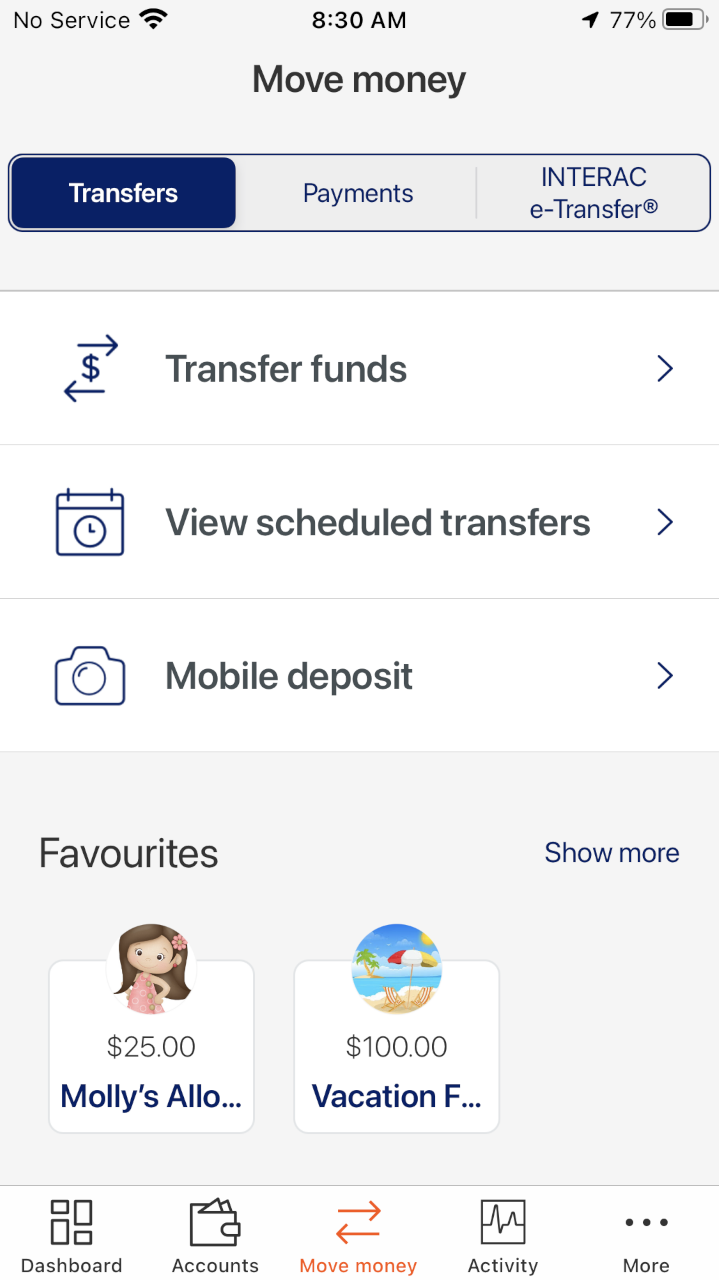 Payments 
Pay bills

View scheduled payments- view all payments that you have scheduled 

Manage payees- Add or delete payees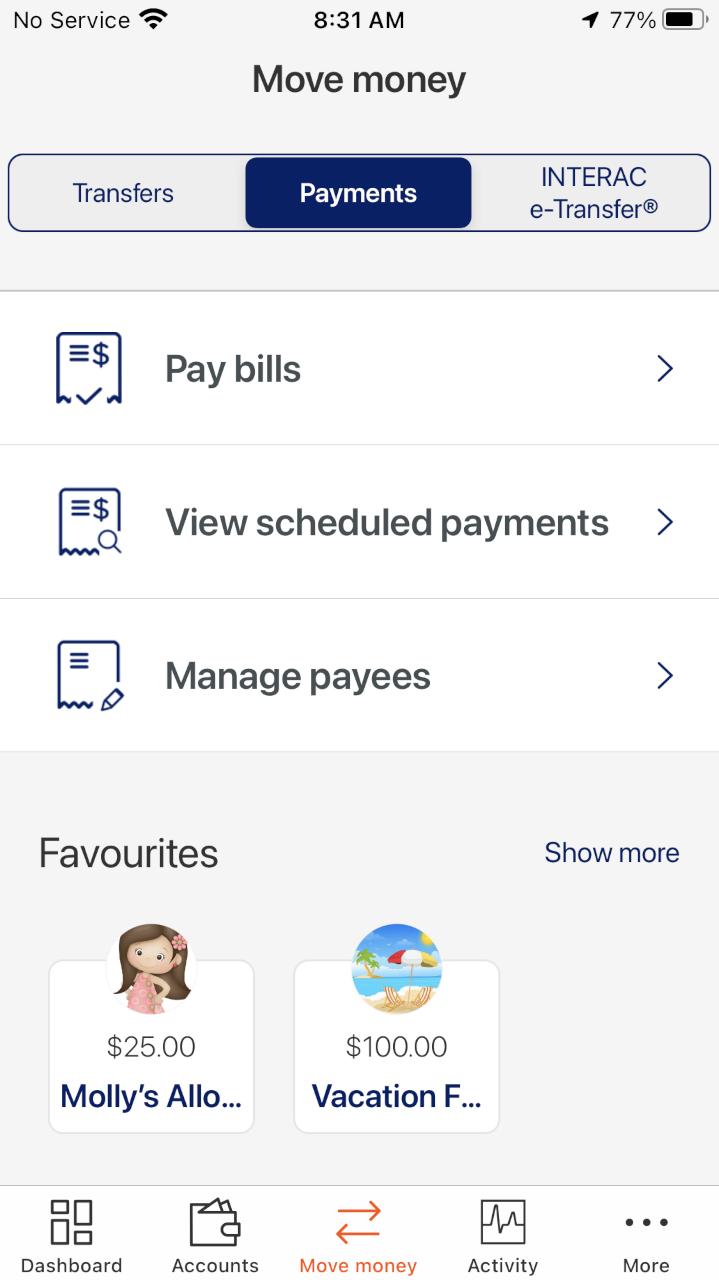 INTERAC e-Transfer
Manage INTERAC e-Transfers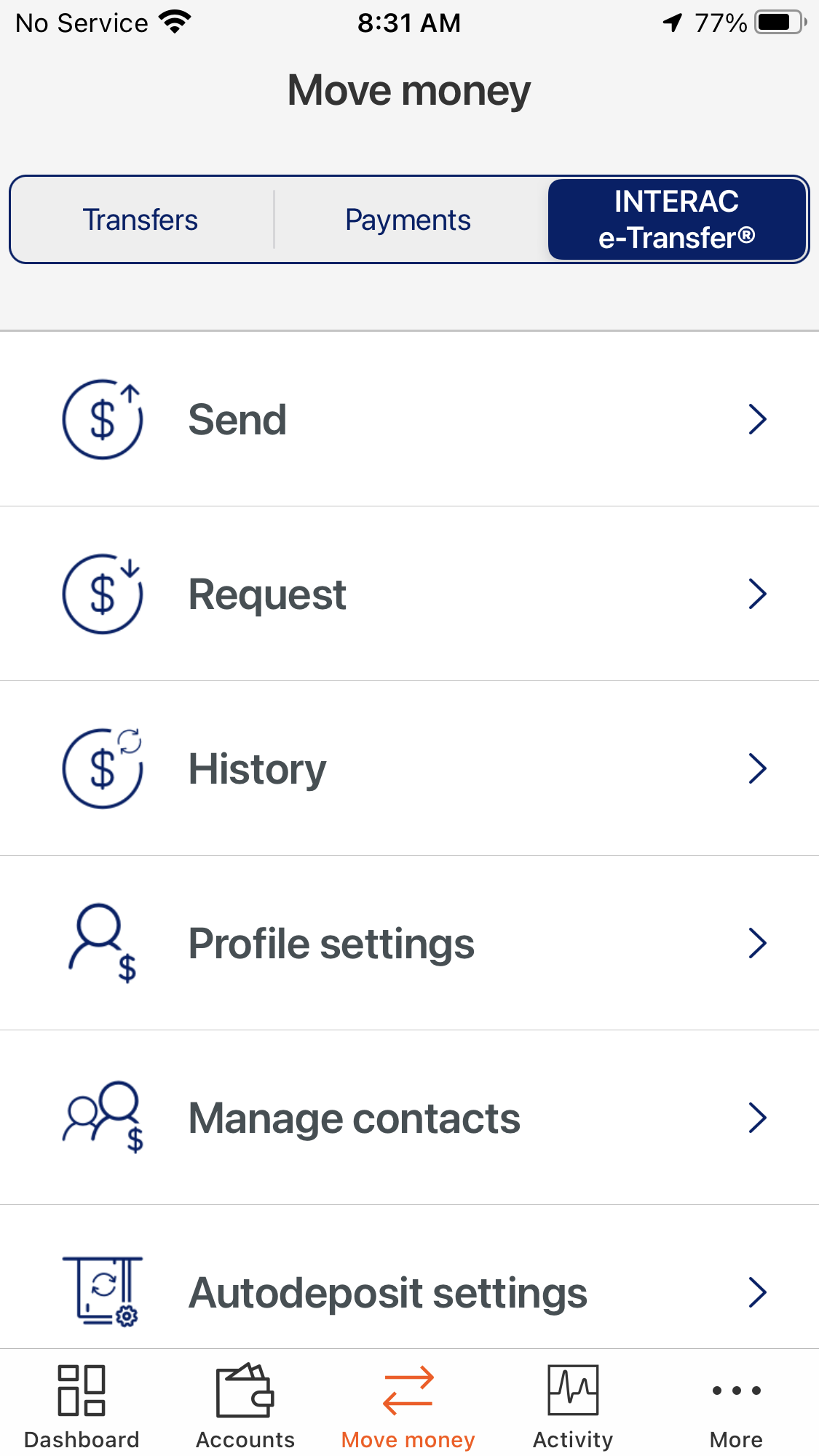 Activity 
Under activity you are able to:
view transactions

activity history

view scheduled transfers

view scheduled payments

view eStatements

Download void cheques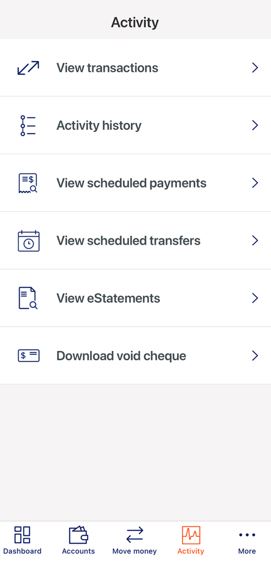 More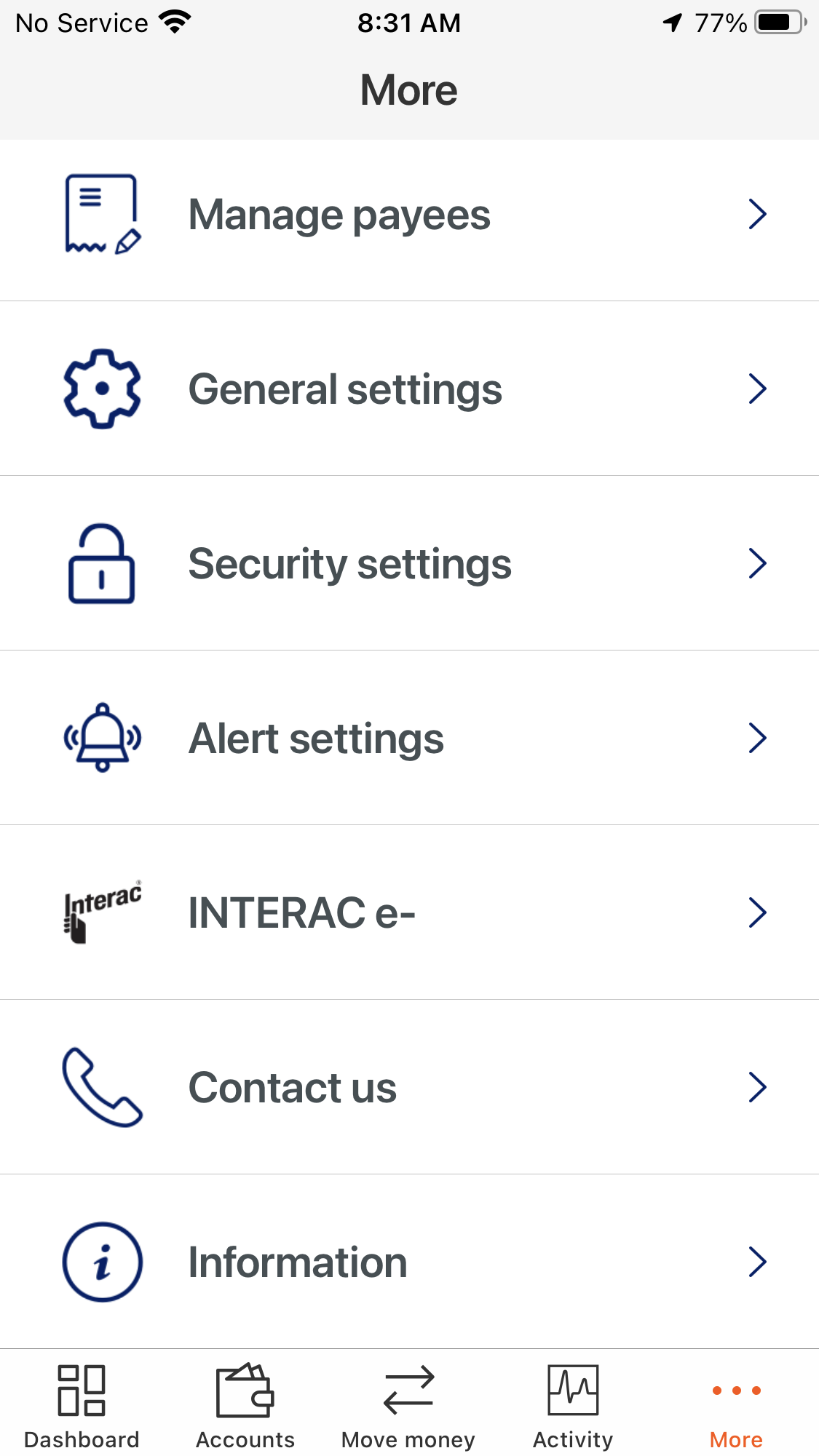 Personal F.A.Q
Signing In
Two-Factor Authentication

Two-factor authentication is an added layer of security for our digital platform. It's a numeric security code (up to 7 digits) that you will receive via text message to your mobile phone or to your email address when you perform certain activities. 
The code is time sensitive and valid only for a limited amount of time. Here are some examples of when one-time passcodes are used:
Register for online banking
First time you sign in to online banking
Add a new bill vendor
Update contact information
Change or reset your password (codes are sent to mobile phones (SMS) only, not email)
Transfer funds to other members
Add an Interac e-Transfer® recipient


Yes, Balance Widgets can be set up to allow up to three chequing accounts to be visible in the app sign in screen, today's screen or both.
From the App "More" menu, select General Settings and tap on Widget settings.
Did you know?
You can also add some of your favorite transactions as shortcuts in the widget, giving you an even quicker way to do your banking.


You can setup Account Alerts to individual accounts for notification of specific banking events. Different alerts can be setup on different accounts.
Transaction Alerts such as deposit or withdrawal, or balance (daily, weekly or monthly) alert that lets you know what your balance is in a specific account.

Insufficient Funds Alert when you have a scheduled transfer or bill payment

Failed Transaction Alert is when a scheduled transfer or bill payment did not occur for whatever reason.


Security Alerts are set mostly by default to protect you when it comes to changes happening to your accounts. This will protect you in the case of someone trying to get into your accounts. This includes events such as:
Password changes (if someone changes your password)

New biometric access (if someone attempts to add another FaceID or fingerprint access to your account from a mobile device)

Password attempt lock (if someone has tried to access your account and has failed to guess your password in three attempts)

Successful login (optional)


From the "More" button on the navigation menu:
1. Select Security Settings
2. Click on Account Alerts or Security Alerts
3. Select the alerts you are setting up
4. Complete applicable fields (ie. Amounts, notification frequency, limit etc.)
5. Toggle on/off the types of notification to receive (text, email, push notifications)
6. Save

You can create favourite transactions to make repeat transfers to the people you regularly send money to. Simply click the favourites icon after completing a transaction.


Bill payments made after 10:20 pm will be processed with the following day's date. The payments will be processed by 10:20 pm the following day. You can view and/or delete your bill payments in your list of Scheduled Payments until the time payments are processed.
Please note that vendor settlement times vary. To ensure your bill payments are received before the due date, submit your bill payment at least three (3) business days prior to the due date.